10h00
CO-WORKING
Can you think of anywhere better than the Capbreton Baya for your morning meetings, internet connection and team briefings facing the ocean? (power outlets, free WiFi, good coffee, peace...)
These days, many people make use of our bar, a well known co working space, where the warm welcome of our team is still and always will be our strong point.
Our chef's recommendations change every 4 to 6 weeks! We recommend our selection of "home made" tapas that we call "raciones" for all you foodies (and there are plenty of you!). We maintain our guiding principle: Produce from Landes, local produce, enhanced by our kitchen team. Fresh, fresh, fresh! Lunch and evening meals.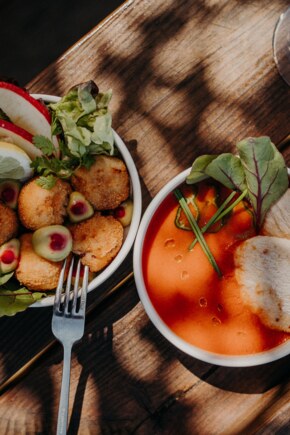 We always have time to be greedy!
Rosemary focaccia, with a side of anchovy and olive pissaladiere €5
Seasonal fish ceviche with citrus fruit, tapioca and green pepper €5
Cappuccino style peppered mushroom cream, spiced bacon chips €5
Xamango piperade and Espelette pepper, poached egg €5
A fine tart of brown sugar and autumn fruits, rum/raisin ice cream €6
Coffee blackcurrant cake €6
16h00
SWEET TREATS
There's something for all ages! Allow us to set the scene: cakes and drinks to be enjoyed on our panoramic patio area, or on the comfortable seating in our lounge. A selection of sweet treats are on offer all day long.
Chocolate fondant €4
Giant chocolate chip cookie €2
"Home made" brownie €4
Blueberry muffin €3
18h00
SUNSET APERITIF
Although we share our superb sunsets with the town of Hossegor, nothing rivals the delicious house cocktails made by Clement, our head barman... The perfect combination for a Sunset aperitif worthy of its namesake!
Entertainment and events are held regularly: Talented and popular groups perform with us every month.
21h00
RELAXATION
As the day gently draws to a close, come and make use of our lounge area for a spot of reading, a conversation over a drink, a special moment with the sunset... Because Baya, is also and above all: true moments of escape...